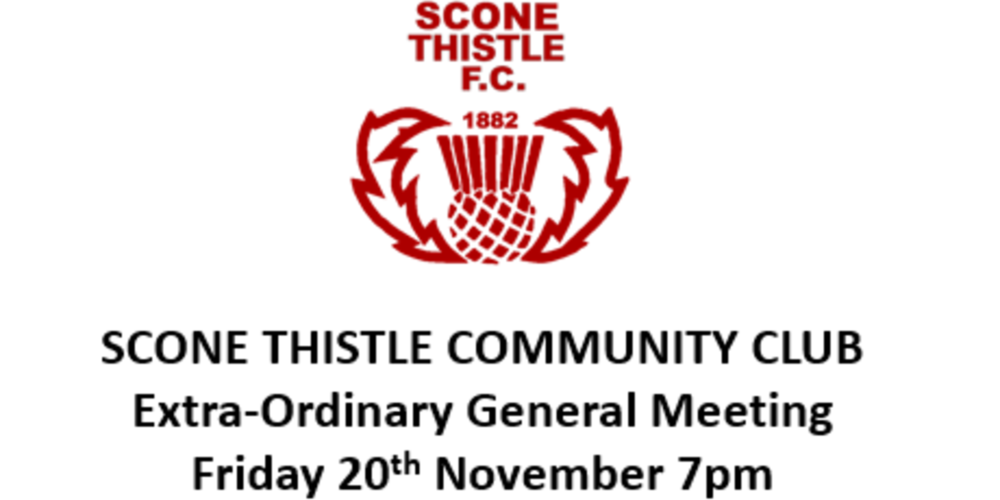 The Community Club committee hereby gives notice to all members of an Extra-ordinary General Meeting to take place (virtually) on Friday 20th November at 7pm.
All members are welcome and encouraged to attend and contribute, however voting is restricted to one vote per member team. (Please speak to your team officials if you feel strongly on any agenda item).
The full agenda is available to view online (see link below). However the main items are:
1) Election of committee members for crucial posts
2) Formation of a Scottish Incorporated Charitable Organisation to supersede Scone Thistle Community Club
The mandatory electable positions are: Chair, Club Secretary, Treasurer and CWPO. (Outline job descriptions are included in the link.) And we would welcome volunteers for other important posts.
If you have an interest and would like to contribute to the running and development of the Club you are encouraged to apply. (Candidate form is available in the link.)
link to documents: STCC EGM 20-11-20 documents
All member teams are required to notify andrew.b.milne@gmail.com with the name of the official attending to vote.
A lnk to the online meeting will be shared closer to the meeting.
Yours in Football,
Scone Thistle Community Club
Back to news